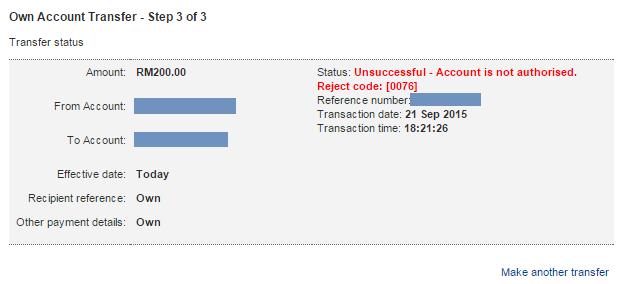 I received the error message "Unsuccessful – Account is not authorised. Reject Code: [0076]" from Maybank2u website when I was trying to make payment to my credit card bill and transfer money to other Maybank account.
I checked with the bank personnel near my office but they can't find out the reason the transfers being rejected and my accounts are in good status. After 10 minutes of investigation, another bank personnel said that may be is due to the minimum amount requirement in that account. I was trying to make payment from my M2U Saver account.
So I gave it a try. I'm able to transfer out money only if my account balance is more than or equals to RM250 after the transfer.
If you are getting the same error like me and are trying to transfer out money from M2U Saver account, do check if the transfer will result your balance to less than the minimum balance amount requirement.
[Update 25th, September 2015]
If you are paying for your Maybank credit cards and you are paying the statement amount which is more than the outstanding amount, you will get the same error too. I'm not sure why Maybank don't want you to pay more than the outstanding amount.
Statement amount is more than outstanding amount, but how can this happen? The statement balance is the amount for the billing period so it is a fix amount. While outstanding amount is the money you owe to bank and when you pay RM1, the amount reduced by RM1.
For my case, it was due to some of my credit card transactions have been refunded and credited back to my credit card account after the billing date. So when I was trying to pay the statement amount, it was rejected with the 0076 code.
[Update 13th, April 2016]
If you are withdrawing gold from your Maybank Gold Investment Account (MGIA) account and you are withdrawing all available gold from that account, you will get the same 0076 error.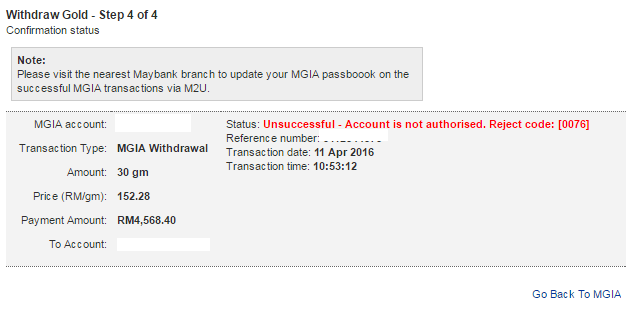 You will need to maintain at least 1 gram of gold in you MGIA.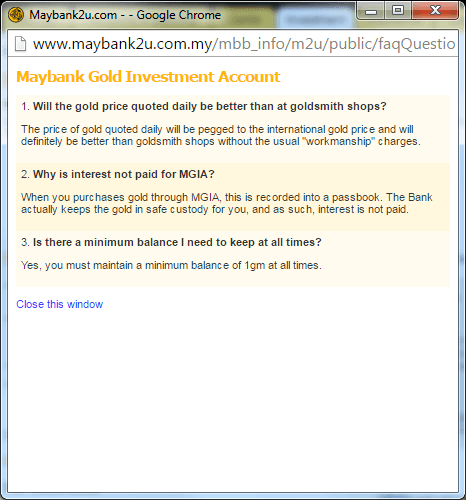 0076 seems to be a general code from Maybank2u system that indicates your account has insufficient amount or after the transfer will cause the account not to meet the minimum requirement. So always check for minimum requirement of that account when you get this error.